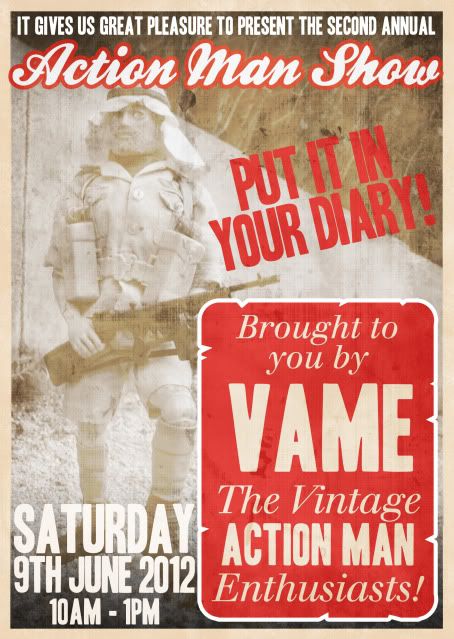 Following the runaway success of the 1st VAME Meet earlier this year (http://vame.lefora.com/2011/04/23/1st-vame-annual-meet-11th-june-2011) I'm pleased to announce that we have arranged to hold a 2nd VAME meet on the morning of Saturday 9th June 2012 in the village of Quorn near Loughborough.

As before, it is for Vintage Action Man Enthusiasts who want to buy/sell/swap vintage Action Man figures and accessories, show off their treasures and customs, or just have a chat. The date, time and location are chosen to make it easy to combine with a visit to the excellent WWII weekend held every year at the Great Central steam railway nearby.
Plans are afoot to make this even bigger and better than the 1st VAME Meet and, believe it or not, entry is still free!
Further details will follow nearer the time, but for now, make a note of the date in your diaries and calendars and don't miss out on the event for Vintage Action Man Enthusiasts in 2012!
Time and Place

Saturday 9th June 2012, 10am - 1pm in Quorn village hall:
http://www.quorndon.com/parishcouncil/quorn_village_hall.php

If you would like to take a table to sell or display, please send me a PM.